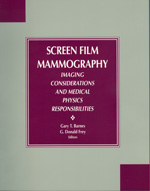 Screen Film Mammography Price Reduced!
Author:
Gary Barnes & G. Donald Frey
ISBN:
9780944838129
ISBN10:
094483812X
Published:
1991 | 127 pp | Softcover
Price: $ 19.95 was 43.95
Contents
Reviews
Description
Provides guidelines for obtaining high-quality mammographic images while exposing patients to reasonable amounts of radiation. Appropriate physics measurements, responsibilities, and proper as well as time-efficient measurement techniques are discussed.



---